My second review on these fascinating Japanese food drops from
Sakuma
! I won't get into the introductions about Sakuma candy drops again since I've already explained briefly about them in my first Sakuma drop candy entry about the 'Ikura don' flavor
here
.
Ok, so for my second Sakuma drops entry, I will review about the potato chips flavor, yes, you read right, POTATO CHIPS!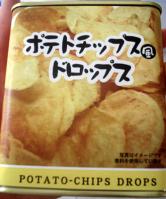 Ok, so candies & lollies are one of the most loved type of confectioneries there is, and potato chips are perhaps the cream of the crop in the snacks world. But have you, or anyone else in this world for that matter, ever thought about how it would turn out if you combine the 2? Well, the people at
Sakuma
surely did! And not only did they came up with the idea, but they actually executed it! And here it is! A drop candy with all the flavor of potato chips! Oh the Japanese never fail to amaze me!
Well, how did they taste? Well, about a second after you pop each candy in your mouth, that strong taste of potato chips just hits you, it was quite incredible. I was amazed, the guys at
Sakuma
, really captured the real flavor of packed potato chips, and infused all those flavors into these pieces of candy drops!
Overall, not a bad creation from Sakuma, I enjoyed this flavor more than the 'Ikura don' flavor, and I had no problems savoring through half of the candies in the tin (my mum ate the other half). But...at the end of the day, I have to say, I still much prefer candies & potato chips to be separated!
My rating (overall):
trackbackURL:http://food4u.blog131.fc2.com/tb.php/71-5d6607f7