This is a special regional edition of Chelsea scotch candy, from the northern Japanese island of Hokkaido; Hokkaido milk scotch: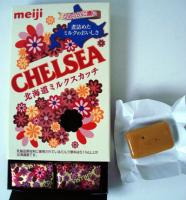 I was surprised but very delighted by this particular Chelsea because the taste was very different to what I had initially anticipated...on the label, it states that it's 'milk scotch', so I had expected each piece of this candy to have a very rich flavor of milk...considering all the other Chelsea flavors I've tried in the past all had very rich & accurate levels of their respective flavors. But I was wrong about this one...the actual taste was even better! I actually couldn't really taste the flavor of milk in this one, it was very subtle...what I did taste instead was a very rich & concentrated flavor of what I thought was very similar to Cappuccino. Even the color of each candy I felt were unusually dark for a candy that's suppose to be a milk scotch. I've tried several other different milk scotch candies in the past, and none of them were this dark in color.
I don't know if the people at
Meiji
had made a mistake in the production of this flavor, or they mis-labeled it. Or, another, most likely possibility is that milk in Hokkaido simply has a very different flavor to regular milk. That's what probably makes this one so special, the flavor is so unexpectedly different to regular milk, and not quite the same to black coffee either...this is why I came to the conclusion that its flavor is very similar to Cappuccino or Latte.
Perhaps the people at
Meiji
should re-label this one to 'Hokkaido Cappuccino/Latte scotch' instead!
I have never tried milk from Hokkaido before, so I have no idea how it tastes like by itself...I would think it's the same to regular milk...but I have been wrong before...I've tried some old-fashioned caramel candy from Hokkaido once and it was VERY different to all the regular caramels I've tried. From the texture, to the taste itself, it was nothing like the caramel I knew from all the other confectioneries made by the rest of the world. It's no secret that I hate caramel, but those Hokkaido caramel candies I had in the past are the only exception.
I have also tried various other food &
sweets
from Hokkaido and they all had slight differences in taste & texture to their counterparts from other parts of Japan & the rest of the world. I guess people in Hokkaido cook & prepare foods differently, with their own techniques to achieve different flavors. If their milk really tastes like Cappuccino/Latte, then I would love to have a glass or 2 of it everyday!
This has definitely been added to my list of favorite Chelsea flavors!
NapaJapan currently has this Hokkaido milk scotch in stock:
http://www.napajapan.com/Products.asp?brand=64
My rating (overall):
trackbackURL:http://food4u.blog131.fc2.com/tb.php/63-7730c40e