Lately I ordered a delightful package of candies & other goodies from
JList.com
, and this is 1 of of the many I ordered...it's a small pocket sized cup of little Kompeito candies...Kompeito are star shaped hard candies which are claimed to "explode in all directions" when you pop them in your mouth...these candies have been around in Japan for many centuries.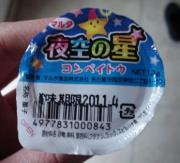 they weren't too bad, but nor were they exciting either...when I read the description, it sounded interesting enough, but frankly, I was disappointed...I expected it would be like those exciting candies that make funny "popping" noises as they really "explode" in your mouth. But these were nothing like that...they were hard, as I expected, but as I bit down on each candy, they just break down into tiny pieces & dissolve in your mouth almost instantly...which was nice...but other than that, there wasn't anything else special about this candy, and there was nothing "exploding" about it either, rather disappointed.
But my mom seem to have liked these a lot more than I did, so I only ate a few of the candies & gave my mom the rest.
My rating (overall):
trackbackURL:http://food4u.blog131.fc2.com/tb.php/39-8e7729ad