Today I will be reviewing 2 flavours of my favourite
Pocky
biscuit
snacks
, these Banana Cake and Strawberry Custard cake inspired flavours are part of Pocky's new 'Dessert' range.
Firstly, this is the Banana cake
chocolate
flavour, oishii!
lovely banana flavor white
chocolate
coating 80% of each stick and decorated with milk choc, both my mum & I loved this so much!
My rating (overall):
now let's move onto the Strawberry Custard cake flavour:
My mom bought this at my local Chinese grocery the other day...it's Mango flavored mochi, I forgot what brand it is from...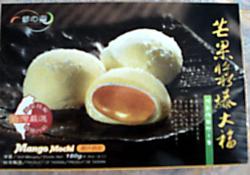 the filling inside is mango jelly:
the jelly was thick with beautiful bright orange/yellow color, but I thought it was a bit overly sweet & the manga flavor was a bit too subtle. But overall, it was decent.
My rating (overall):